SBG's commercial pressure washing service is provided to all types of commercial businesses. We incorporate the most updated technology in our equipment to make sure the exterior of your commercial building comes out looking impeccable. Our technicians have years of experience with Commercial Pressure Washing and take special care when providing pressure washing service to your commercial property. Our services are available but not limited to the following businesses:
Shopping Centers
Retail stores
Parking garages
Office buildings
Restaurants
Warehouses
The elements of nature and weather conditions can take its toll on buildings. While they may not be impacted structurally, those elements can sully the look of a building.
A buildup of dirt, grime and dust can taint the appearance and that could wind up negatively affected business. The proper commercial pressure washing can enhance the look of a commercial building and that could help in a variety of ways.
Selling Your Home?
Having a clean exterior on your home can make a huge difference when
having it on the market. Get the potential buyers attention with a fresh clean home, spotless walkways, sparkling clean gutters and deck areas! Let us help you make it SHINE!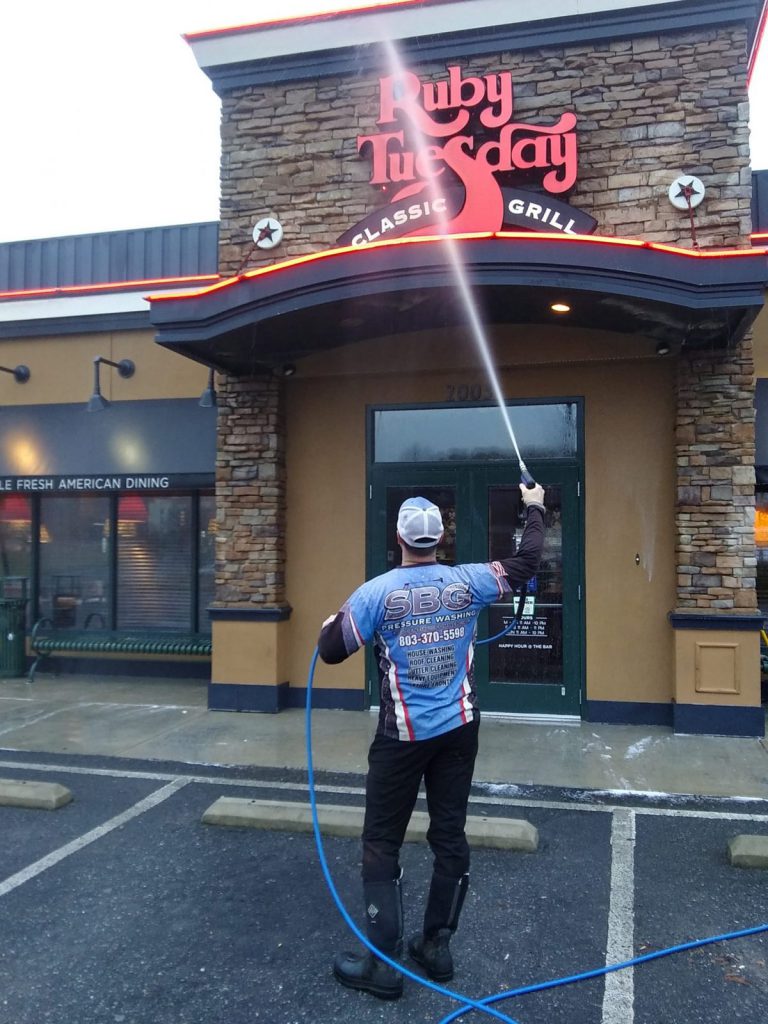 SBG's commercial pressure washing service provides a deep clean through the process of blasting away the accumulation of dirt. This will also restore the natural color of your building and do away with unsightly colors. The growth of unwelcoming green and brown colors can be immediately washed away, no matter how deep they are rooted into the surface. Commercial pressure washing is not limited to just the exterior of a building as it can also be used to clean the  following:
Roofs
Awnings
Windows
Sidewalks
Downspouts
Gutters
There are numerous benefits that come with choosing our commercial pressure washing in Charlotte, North Carolina. Our team of experienced technicians will wash your entire property without having to use your water. The service also helps businesses maintain compliance with local and EPA regulations. Our team will also make use of aerial lifts in order to clean hard to reach places. Regardless of the design of your building, we will find a way to get the job done right.
Professional Commercial Pressure Washing
Commercial pressure washing can enhance the curb appeal of any business. And commercial properties that look their best have a better opportunity of attracting new customers. It is also important to note that not every building façade can withstand pressure washing. Our technicians are expertly trained to know what areas cannot withstand pressure washing. We use the proper techniques for all surfaces and will not provide this service on areas that could sustain damage. Our team of technicians are standing by ready to provide your commercial business and property with the pristine look that it deserves.