Soft washing is an alternative to pressure washing
and it is extremely useful when cleaning certain kinds of materials. The process works by utilizing less pressure than would be used by a pressure washer. The result remains the same, although it eliminates the potential for damage as pressure washers can be too strong for certain parts of a home or business. SBG Pressure Washing knows how to lessen the pressure and apply just the right amount when soft washing certain kinds of surfaces and materials.
Siding Soft Washing
Vinyl siding is a popular choice of many homeowners. However, there is a delicate nature to vinyl siding, as well as other types of siding. This requires a decrease in pressure during the cleaning process. At SBG soft washing, our technicians are trained in the most appropriate methods of soft washing and they also know which ones are necessary to use on all different kinds of siding. Let our expert technicians take care of your siding with just the right touch to each type of material.
Selling Your Home?
Having a clean exterior on your home can make a huge difference when
having it on the market. Get the potential buyers attention with a fresh clean home, spotless walkways, sparkling clean gutters and deck areas! Let us help you make it SHINE!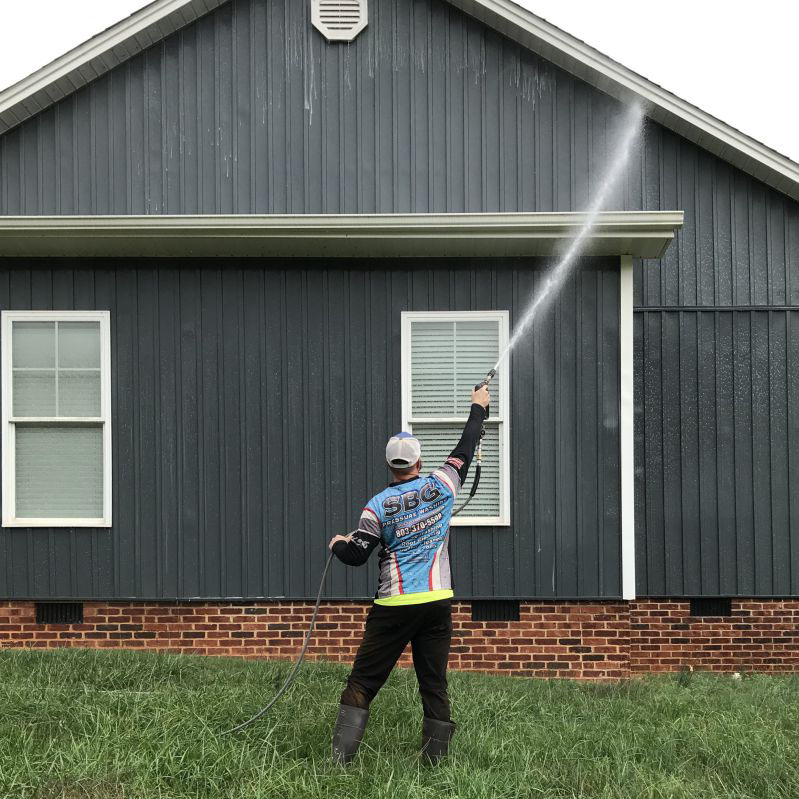 Roofing Soft Washing
Black stains on rooftops are unsightly, unhealthy and could lead to a myriad of problems. The best way to eliminate black stains is to undergo a soft washing roof cleaning. Our technicians can navigate rooftops without causing any damage while also removing any stains that could prove harmful or problematic. Soft washing a roof with SBG will also preserve the integrity of the roof for years to come. Our service is available to all kinds of roofs ass our technicians know the exact steps to take with each variety.
Gutter Soft Washing
A soft wash can remove the most stubborn dirt from your gutters. This could be a tremendous help when it comes to maintaining the exterior of your home and minimizing any future damage. The team of SBG technicians will clean out debris from your gutters, clear away any clogs and provide a soft washing so that every speck of dirt is washed away. There is more to our soft wash gutter cleaning than just removing debris.
A Professional Soft Washing Process
SBG Pressure Washing uses a soft wash method that does not damage any surfaces. We understand how important your home or business is to you and that is why we take extra precaution when applying our soft wash service. For the very best exterior soft washing in Charlotte NC, contact SBG and let our delicate touch go to work for you.