Roof cleaning is not something most homeowners and business owners are looking to do themselves. That's okay because the professionals at SBG Pressure Washing & Roof Cleaning are here to help. We have experienced technicians ready to be dispatched o your home to provide the best roof cleaning and pressure washing services Charlotte NC has to offer.
Roof cleaning is a difficult task as simply getting up there is a task in itself. It also presents an element of danger to those who are no trained. Secondly, walking around on a roof presents the potential to do damage as there are delicate areas that should be avoided. One false step could prove costly and that is why it pays to go with a proven roof cleaning service.
Soft Wash Roof Cleaning
Pressure Cleaning For Roofing
There are many roofing systems that require a delicate touch when it comes to cleaning. Soft washing is strongly recommended as it does not depend on blasts from high pressure washers. A softer stream of water is used instead and that is combined with an eco-friendly cleaning solution that is gentle on the roof cleaning process. This combination lifts out stains while also preserving the integrity of the roof and finishing it with a clean look.
Selling Your Home?
Having a clean exterior on your home can make a huge difference when
having it on the market. Get the potential buyers attention with a fresh clean home, spotless walkways, sparkling clean gutters and deck areas! Let us help you make it SHINE!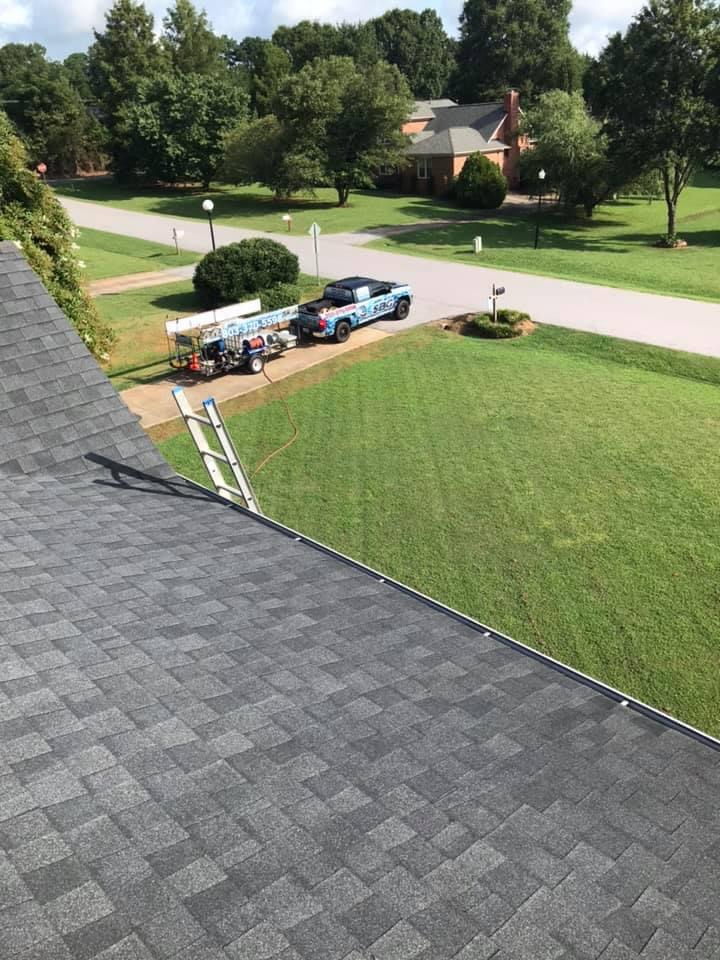 Remove Black Roof Stains
Asphalt shingles are one of the most common choices for rooftops. However, they frequently accumulate black stains, which is actually a buildup of algae. The growth of algae is made possible by moist areas on the roof. This issue should be addressed because the algae will begin to deteriorate the roof, particularly the layer beneath the shingles. Soft washing is the most ideal method to combat this roof cleaning problem because of the following:
Shingles will not sustain any damage
Reappearance of algae will take much longer
Rooftop will look clean and new
Expert Roof Cleaning Service
A roof is an essential part of any home or business and any type of service to that area should be trusted to a reputable professional. When you enlist the services of SBG Pressure Washing & Roof Cleaning, your roof cleaning will come with the following:
Courteous and respectful staff
Expert advice and insight
Eco-friendly products
State of the art equipment
No hidden costs or fees
SBG Pressure Washing & Roof Cleaning is ready to go to work on your roof as we take care of soft wash roof cleaning in Charlotte NC and the surrounding communities. Contact our roof cleaning and washing experts today and we will get started on making the roof of your home or business look brand new.