SBG Pressure Washing offers an alternative to the power that comes with pressure washing. Our soft wash services are a way of cleaning the siding of a home or commercial building. We take the time and care to ensure the siding of your home or business is not damaged during the pressure washing process. That is accomplished through the soft wash process used in our siding cleaning. 
The accumulation of mildew, bacteria and mold can make for an unsightly look to your home. Siding is susceptible to staining and that can lead to a greenish coloration. That exterior staining is also considered a health hazard. Mold, algae and mildew can contribute to an unhealthy environment with toxins pouring into your home. Why not take some time and save your loved ones the misfortune of getting sick by hiring the professional siding cleaning service offered by SBG Pressure Washing.
Siding Washing Services
It does not matter what type of siding is on your home or business, SBG Pressure Washing can help. Over time, mildew, bacteria, and other stains accumulate on siding. The first thought would be to have these stains pressure washed. However, siding can sustain significant damage with that type of cleaning. A soft wash will do the trick as there is no need for the same type of pressure washing that cleans decks, patios and concrete surfaces. The technicians at SBG adjust the pressure in our soft wash service so that no siding is damaged. It takes a trained eye to know just how much pressure to apply and we can take care of that facet at SBG Pressure Washing. 
Selling Your Home?
Having a clean exterior on your home can make a huge difference when
having it on the market. Get the potential buyers attention with a fresh clean home, spotless walkways, sparkling clean gutters and deck areas! Let us help you make it SHINE!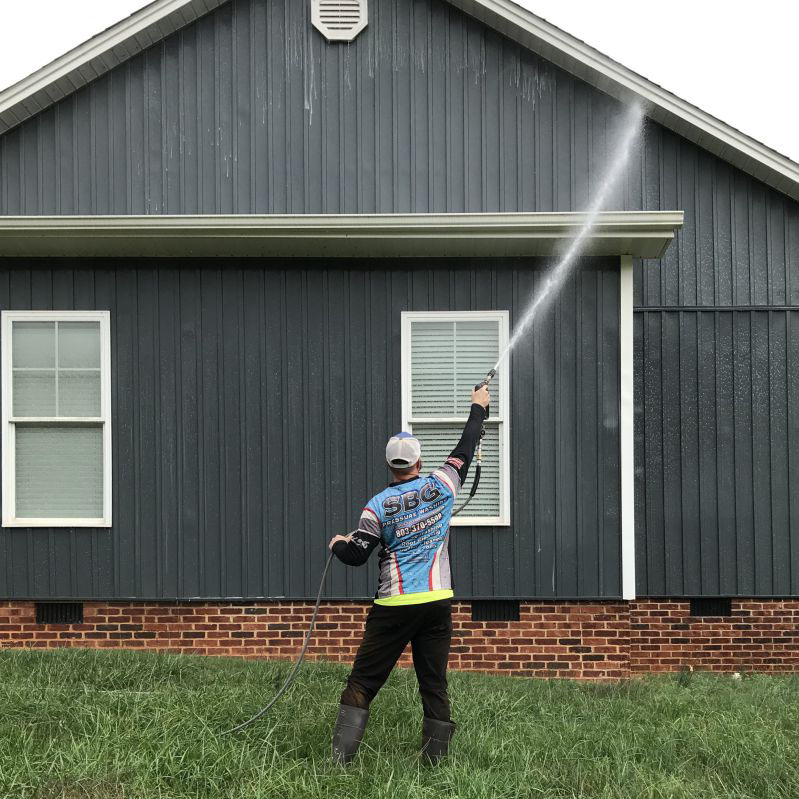 How soft washing works With siding
The process of soft washing begins by using an eco-friendly cleaning agent. That is applied with a gentle dose of water pressure on the exterior of your home or business. Too much pressure will damage the exterior. We also use a professional technique that prevents water from getting lodged beneath the siding. That can trap moisture and lead to the eventual buildup of mold or mildew, both of which can be damaging. 
Experienced Pressure Washing For Siding
The last part of the process involves rinsing the siding with a water softening agent. This will serve the purpose of limiting any water spots from appearing on your windows. The eco-friendly makeup of our products ensures that any landscaping will not be affected. SBG Pressure Washing is ready to provide a soft wash to your siding.