Pressure washing is a way to give homes a fresh, pristine look. It uses both high-pressure and low-pressure washing water for the purpose of cleaning numerous surfaces. This process is completed by experienced pressure washing technicians who will not damage any surface on or around the home. SBG Pressure Washing is your solution to freeing your home of dirt, grime, dust and other substances that have sullied its look. 
Pressure Washing Application
It may seem that pressure washing is reserved for a home itself. While this process works wonders on the exterior of a home, it also takes care of other problem areas that have built an accumulation of discoloration. SBG's services extend to the following areas as well:
Driveways
Patios
Fences
Walkways
Decks
Pavers
Selling Your Home?
Having a clean exterior on your home can make a huge difference when
having it on the market. Get the potential buyers attention with a fresh clean home, spotless walkways, sparkling clean gutters and deck areas! Let us help you make it SHINE!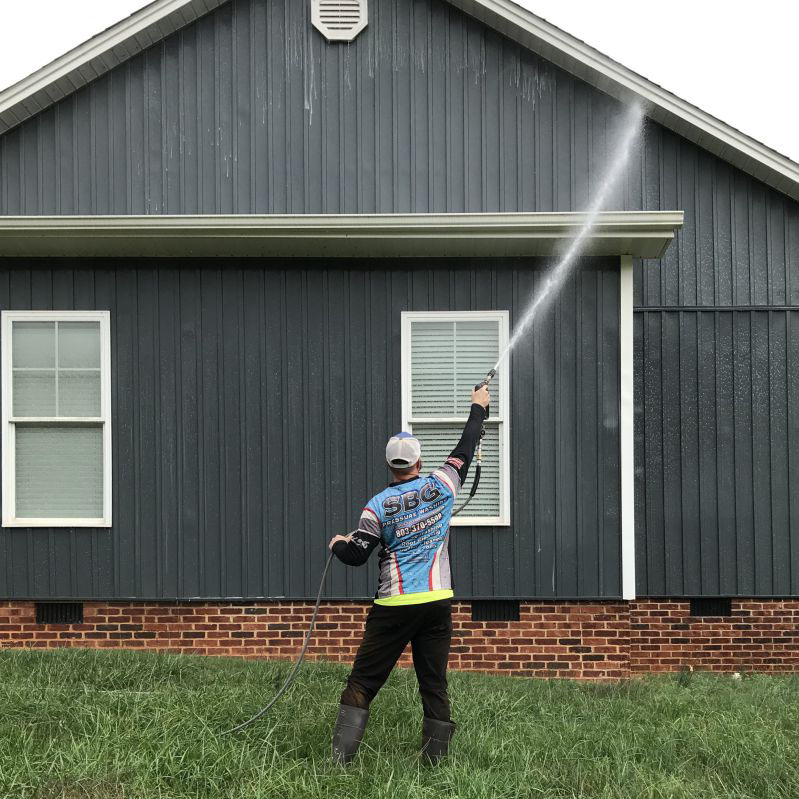 We also know how to adjust the pressure when dealing with different surfaces. Our technicians adeptly attend to surfaces that include aluminum, steel, wood, brick, concrete, ceramic tile and more. It is important to choose a service that knows how to deal with a variety of surfaces. We also use products that are safe for the environment as we are a conscientious, eco-friendly business.
Our pressure washing service will allow your home to appear in its best possible light. The surface of your home is unimportant as our service ensures it is washed and protected during this process. Not only does it provide a clean look, but it serves to protect your home against the buildup of substances that could cause damage. Washing away mildew, grease, stains and mold will help maintain the integrity of your structure.  
Professional Residential Washing
There are a number of ways to clean your home, but it pays to go with a professional service that takes the time and dedication to ensure everything is done correctly. SBG offers an abundance of benefits when it comes to residential pressure washing in Charlotte NC. Here is a look at what you can expect with our power washing services.
Top quality performance
Expert advice
Punctuality
Cost-effective solutions
Ultra clean work areas
Boost Curb Appeal
Our pressure washing service can also boost curb appeal and that helps immensely when trying to sell a home. If you are ready to put your house on the market, make sure it looks its very best. SBG Pressure Washing can provide a showroom look to your home and all the adjoining surfaces. Contact us today and let our expertise and experience start working for you.