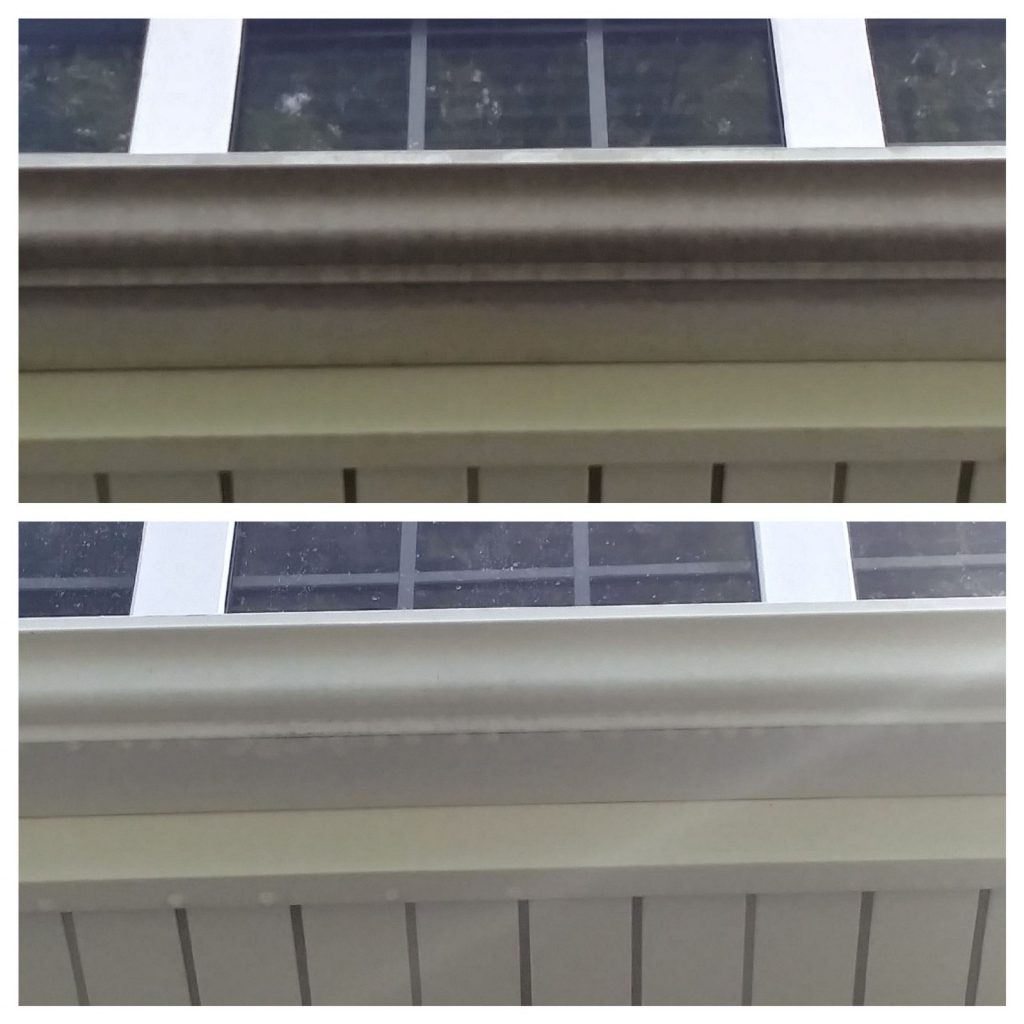 One of the more important regular cleaning tasks on the exterior of any home or business involves the gutters. A buildup of debris can lead to other issues if left unattended. SBG Pressure Washing uses our soft wash service to conduct gutter cleaning in Charlotte NC and the neighboring communities. 
Complete Cleaning Services
When some people think of gutter cleaning, they emphasize the removal of leaves and other types of debris. However, a thorough cleaning with a trusted pressure washing service goes beyond that. Here is often a buildup of pesky dirt collections ha need to be washed away. That does not mean they should be pressure washed the way that concrete is deep cleaned. A softer wash is required so that it will not cause any damage. Too much pressure should be avoided as it is not a safe way to clean your gutters.
Selling Your Home?
Having a clean exterior on your home can make a huge difference when
having it on the market. Get the potential buyers attention with a fresh clean home, spotless walkways, sparkling clean gutters and deck areas! Let us help you make it SHINE!
Residential & Commercial Pressure Washing
SBG Pressure Washing has become a reliable part of the Charlotte, NC community with a host of residential and commercial pressure washing services. The look of your home or business is too important to leave unattended. We can provide the right type of wash that will ensure your property is safe, clean and appealing.
For many, it is not difficult to overlook a thorough cleaning of their gutters. Failing to acknowledge this important maintenance task could lead to leaks in the gutters and a saturated foundation. And even a gutter that is supposed to be free of maintenance still requires a regular cleaning. SBG Pressure Washing will provide complete gutter cleaning that includes the following benefits:
Protect foundation from incurring water damage
Lessen erosion of landscape
Preservation of fascia boards
Protection from any rotting of roof
Thwart the accumulation of mildew and mold
Experienced Pressure Washing For Gutters
Our gutter cleaning service involves a step by step process that has been tested and proven successful. We take the time to ensure every job is done right and that is something we take great pride in at SBG Pressure Washing. When a client enlists our soft wash gutter cleaning service, they can be sure to expect the following:
Strict adherence to safety guidelines – Handling ladders with care and being sure not to damage any part of the home or business.
Removal of debris – We will take the time to clear out all the debris in your gutters before commencing the soft wash process.
Clearing out clogs – In the event that a downspout is lodged with debris, we will identify the clog and clear it out.
Don' wait for a problem to occur before addressing your gutters. And because of the extent and potential dangers of this task, it is recommended that you choose a professional gutter cleaning company. SBG Pressure Washing is ready to be there for all your soft wash gutter cleaning in Charlotte NC.
Contact SBG Pressure Washing Today For Sparkling Gutters!